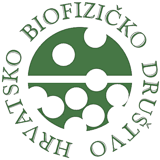 Croatian Biophysical Society (CBS)
(Croatian Biophysical Society)
CBS was founded in 1980, as a branch of the Yugoslav Biophysical Society. In 1991, it acquired the status of a legal entity and registered as an association with the Ministry of Administration of the Republic of Croatia. In 1993, CBS joined the International Union for Pure and Applied Biophysics (IUPAB) and the European Biophysical Societies Association (EBSA).
HBD is registered in the Register of Associations of the Republic of Croatia under number 00000628 and in the Register of Non-Profit Organizations, RNO number 0207928.
The history of biophysics in Croatia is very rich, as evidenced by a number of events since 1966 (From the history of society, article by Jasminka Brnjas-Kraljević, PhD).
The goals of society
The goals of the Society are the promotion and development of biophysical sciences, the teaching of biophysics, the application of biophysics in other scientific fields and professions, and the promotion of the reputation and social significance of biophysics and biophysicists. These goals of the society are achieved through activities (Society activities.pdf, article by Dubravka Krilov, PhD).
Activities and membership of the society
The activities of the society are performed at meetings, conferences, lectures, publishing, co-organization of the International School of Biophysics, cooperation with other associations, institutions and companies.
The membership of the society consists of persons who deal with biophysics in their scientific research or teaching work, students, then natural and legal persons whose activities are related to biophysics.
Activities of members of the Society–>
Administrative activities, determined by the statute (Statute 2015/19) of the Company, take place through the administrative bodies of the Society.